The native of planet moon, pearl is a symbol of beauty with grace. The mesmerizing and eye capturing beauty of pearls has a special place in the world of gems and stones. From fashion world to Ayurveda, the pearl is used for its extraordinary qualities. It is always in demand and never becomes outdated. It's available in the market in different varieties. In fact, you can also buy Pearl online with an opportunity to have innumerable options for your choice.
Types of Pearls
Akoya Pearls – The Akoya pearl is a saltwater pearl from Akoya oyster. Considered as the classic pearl Akoya is used for making necklaces and other pearl jewelry. It comes in round shape with mirror like shine and neutral colors. It is one of the most preferred pearls for classic pearl choice. These pearls are produced in China and Japan and to some extent Thailand, Australia and Vietnam.
Tahitian Pearls – From Black-lip pearl oyster Tahitian pearls are also known as black pearls. These pearls are among the most expensive pearls in the world. It's also available in various colors from grey and creamy white to regal green, sparkling peacock and deep black. These pearls are grown in French Polynesia, the Micronesian Islands, and the Cook Islands and to some extent Japan, Thailand and the Philippines.
Freshwater Pearls –Available in most unusual, fanciful and whimsical shapes freshwater pearls are among the most commonly used and produced pearls. One can find a diverse range of colors in it. Freshwater pearls are produced in China, Japan and United States. With quite affordable prices, these pearls are in great demand by consumers, jewelry designers and shoppers.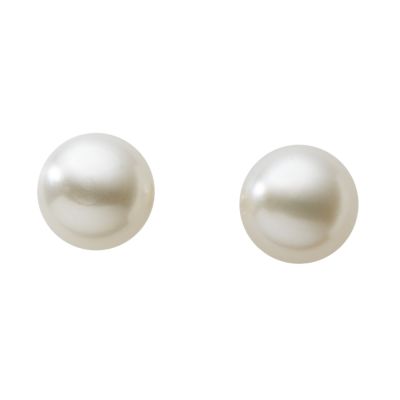 White South Sea Pearls – Produced in Australia, Philippines and Indonesia south sea pearls are big in size. Because of their limited culturing area south sea pearls are among the rarest pearl types. These are available in different colors like silver, white, aqua, blue, cream and deep golden. Baroque and drop-shape makes it unique and unusual.
Golden South Sea Pearls – Among the largest pearls, golden south sea pearls have an extremely ethnic look. The golden tone of these pearls is natural and does not need any treatment or polishing. The pearls come from Australia, Philippines and Indonesia. Other hues in golden pearls are yellow and champagne.
Astrological importance of Pearls
In Vedic astrology, pearl is a native represents the planet Moon. The planet governs cancer sign and has an impact on our thinking as it reflects human mind. Pearl is worn to maintain the stability of mind. Wearing pearls can help in acquiring self-confidence and have good relations. Diseases related to blood, asthma, indigestion, bladder, insanity, heart problems can be controlled by wearing pearl. It gives peace and calmness to the wearer. Being one of the luminaries moon has its effect on watery places, the human mind, females & plants of juicy nature. The wearer should wear pearl studded in silver on Monday morning (Shukla Paksha).
Pearl in Ayurveda
With its innumerable qualities, pearl is also used in Ayurveda. Known as "Mukta" in Sanskrit pearl ash is used in the treatment of diseases like stomach ulcer, problems related to metabolism, bones, skin, menstrual irregularities and calcium deficiency.